PlantStudio
Try it
Buy it
Info
Introduction
Features
Screen shots
Samples
Users say
Reviews
More info
Requirements
License
Help system
History
Support
FAQ
Versions FAQ
Tech support
Feedback
Wish list
Survey
Community
Gallery
Exchange
Mini-tutorials
Links
Link buttons
Mailing list
Newsgroups
PlantStudio Gallery: Pottery and plants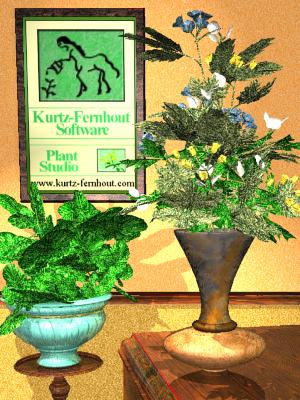 Previous ... Next ... Main

Artist: Jim Speers at Jim Speers Pottery

Four freeform plants were created in PlantStudio ... each were then exported as DXF files. The DXF files were next imported into CorelDream, components were given colors and textures, arranged as a bouquet and planter setting, and then were rendered as a raytraced illustration.

All trademarks and brand names are those of their respective holders. Policies regarding the PlantStudio Gallery are subject to change without notice.