PlantStudio Gallery: Ants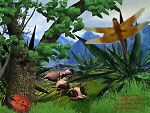 Previous ... Next ... Main

Artist: Mary Broussard at The Widow's Web

The full-sized image is at Mary's web site. Click on the small picture above to see it.
All trademarks and brand names are those of their respective holders. Policies regarding the PlantStudio Gallery are subject to change without notice.